VERSION 4 HAS ARRIVED
Version 4 of our rentals management software has arrived and it is jam packed with brand new features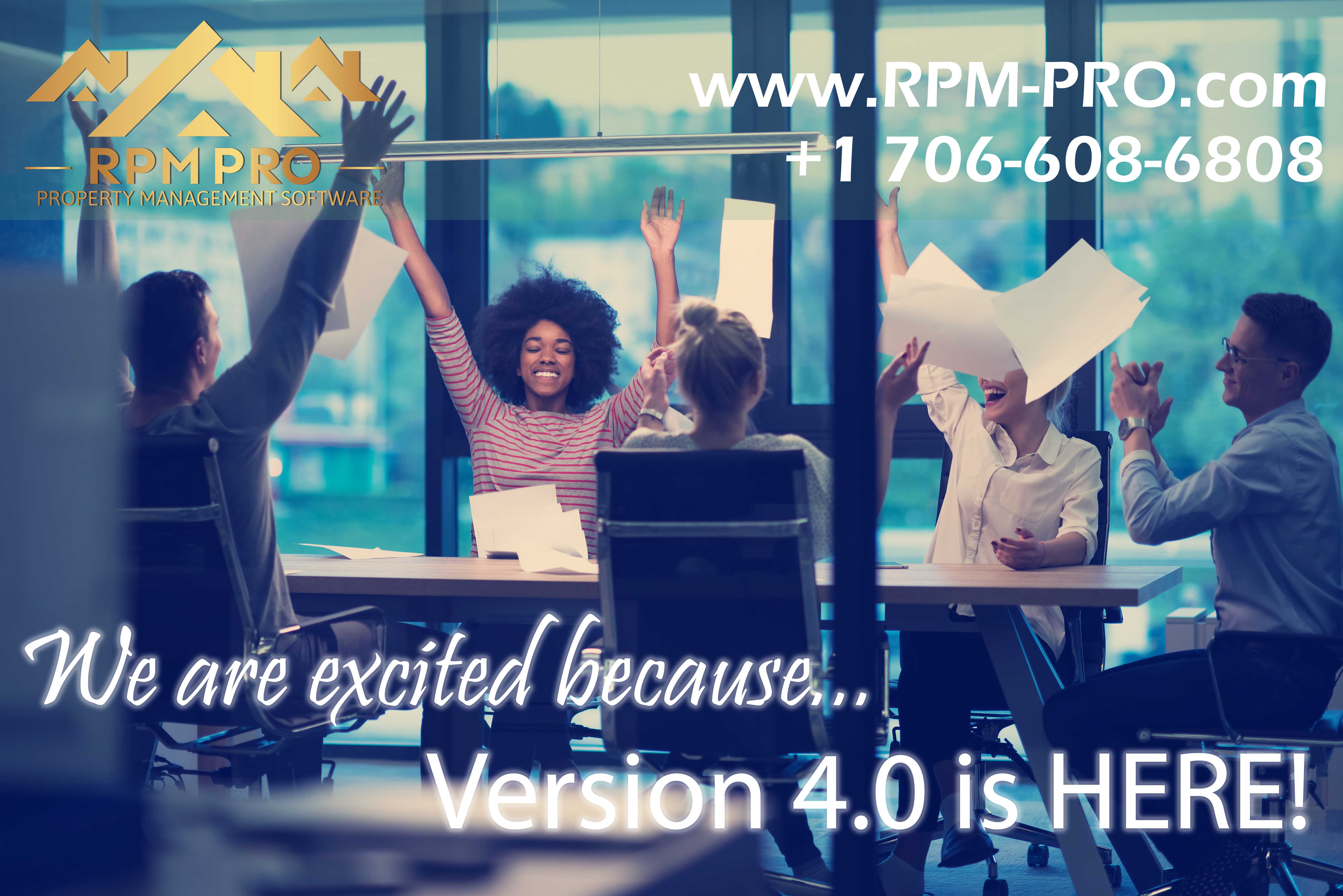 We have had a dedicated team of developers just working on the version 4 update for the last few months, even though we have still kept to our normal update schedule. As version 4 is a massive milestone for us we wanted to make sure that it was an update that will last forever. We have enhanced so much inside the software to make your life easier along with making managing your rentals business more fluid and streamlined than ever before. Keep on reading below to see all of the updates that are now packed into your version 4.0 update!
New create lease system
We have revamped the lease system to make managing your long term rentals business and properties even easier. The whole create a lease system has been rebuilt so that you can do everything, all on the same page. This means that all aspects of creating a lease such as: creating a property, creating a tenant, creating a landlord and the actual lease creation, can be done all in 1 place.
Leases revamp
On top of the brand new lease creation system, we have also revamped the layout of the lease pages layout, this is aimed to provide an easy overview of your leased properties and the ability to manage your leases with ease.
New month to month lease page
Alongside the new lease system, we have also moved the "Month to Month" leases from the "Active Leases" page to it's very own page. We have done this as we noticed more and more customers using the month to month lease function and we wanted to provide easy management of said leases.
Booking system overhaul
The booking system is one of the most important functions inside the software, that's why we have totally overhauled the way that it works to make it easier and more efficient to book than ever before. Still all on 1 page, but with speed and styling enhancements and with more information about the property that is about to be booked and clearer fee's make this the best possible way to book your property. It's so good that we have even introduced the same system into the tenant & guest portals to make it just as easy for them to book too! Check it out by clicking "New Booking" on your left hand side menu.
Owner Booking Revamp
We have also enhanced the owner booking system to fit in with the new booking system, quicker, easier and faster than ever for your landlords / owners to make an owner booking for their own property.
New separate landlord portal for enhanced security
The landlord / owner portal has been revamped and moved over to it's own separate login area, as after so many years of having the owner portal in the same place, we thought its going to be a transition period of people actually logging into the right area, so we have built in bi directional redirects so that admins and owners can login to the same page and yet still be directed to the correct portal. The main reason for this move was security, as its 2019 we are progressing with security trends and we found separating the portals would be the next main step in keeping everyone & everything secured.
New reporting system with new reports built in
Reports have always been built custom, for each customer of ours, yet we have found that many customers use the same, or similar reports alongside their state specific reporting requirements. So we have created and added multiple new reports built into the system to save setup time and also to provide in depth reporting capabilities out of the box.
REST API Updated
The API functionality inside the software has had a revamp keeping everything in line with the latest REST API developments. As always the API can be used to link your software to any external website that you wish.
New and improved tenant / guest portal layout
We have introduced a brand new style to the tenants & guests portals! We found after a survey that tenants and guests felt a little overwhelmed by the old style system, it didn't feel like a website to them, more like an actual software. That's what we want to avoid with RPM Pro, we want your tenants and guests to feel welcomed and that they are using a portal attached to your site, not an in depth software that they have to learn. That's why we have created a new, improved, beautiful and interactive style for the tenants and guests to login to and use. Every single page has been re-created and we feel that it is far more welcoming and easier to use than ever before and than any of our competitors. Tenants & Guests can as always use their panel to:
· Manage and update their personal information
· View and book vacation rental properties
· Manage vacation rental bookings
· View available long term rental properties
· Apply online for to lease a long term property
· Submit & manage service / maintenance requests for their rental
· Pay invoices for both rent and bookings
· Manage and upload documents
· Contact you directly
We have also added everything related to each tenant or guest onto their profile page so that they can have a clear overview of their account and history with you, all on one page.
New and improved tenant & guest information layouts
We have totally changed the tenant & guest profile page to bring it in line with the latest style changes inside the software, we have added the easy access buttons at the top of the page and made the rest of the tenant / guest information clearer to view and easier to update.
New and improved admin profile
We have totally changed the "admin / owner / housekeeper & service rep" profile pages to bring them in line with the latest style changes inside the software, we have added the easy access buttons at the top of the page and made the rest of the admin information clearer to view and easier to update.
Long term property syndication
Want to lease your long term rental property quicker? No problem! We have introduced "Property Syndication" into your property information page. When requested, your property will be listed, with all of the details & photos that you have saved on your property, to multiple rentals websites such as rent.com and apartments.com. This means that you will get more applications with less work listing the property everywhere yourself. Please note: It can take up to 24 Hours for your property to list on external rentals websites, we are not in control of that.
Dashboard updates
We have revamped the dashboard to ensure that you get to where you want to go, fast and with ease. To top it all off we have also updated the way our updater works so that you can update your software with just 2 clicks of the mouse!
Updated available properties views
We have updated all of the available propertly listing views and added a new "Lease Property" button. This means that you no longer have to go into a property information page to create a lease, although of course, you still can.
New improved file box system
We have revamped the file box system, this now filters your files by type and makes everything look a lot better.
Updates site alerts
We have revamped the way that the site alerts page looks so that it keeps in line with all of our new styling and functionality updates.
Updated Payment gateways
We have revamped the way that the payment gateways page looks so that it keeps in line with all of our new styling and functionality updates.
Updated taxes
We have revamped the way that the taxes setup page looks so that it keeps in line with all of our new styling and functionality updates.
Speed enhancements
We have cleaned and optimized so much code it would take too long to list all of the pages, because it affects literally every page inside the software. We have enhanced everything to make the system run cleaner and faster than ever before.
---

If you don't have automated updates installed on your RPM Pro software install then simply visit your dashboard as a superuser and click the update button at the bottom of the page. After doing this your system will update and take you back to the login page, once you have logged back in, you are now using version 4! If you do have automated updates installed, you are already noticing the changes inside the software because you're already using version 4!
Thanks for taking the time to read this update post. we work hard on our software, so that you dont have to work so hard on your business.

WINNERS: BUILD Magazine Most Innovative Rentals Management Software 2019
RPM PRO is the winner for the BUILD Magazine Most Innovative Rentals Management Software Award 2019